GINGERBREAD COOKIES WITH BUTTER RUM GLAZE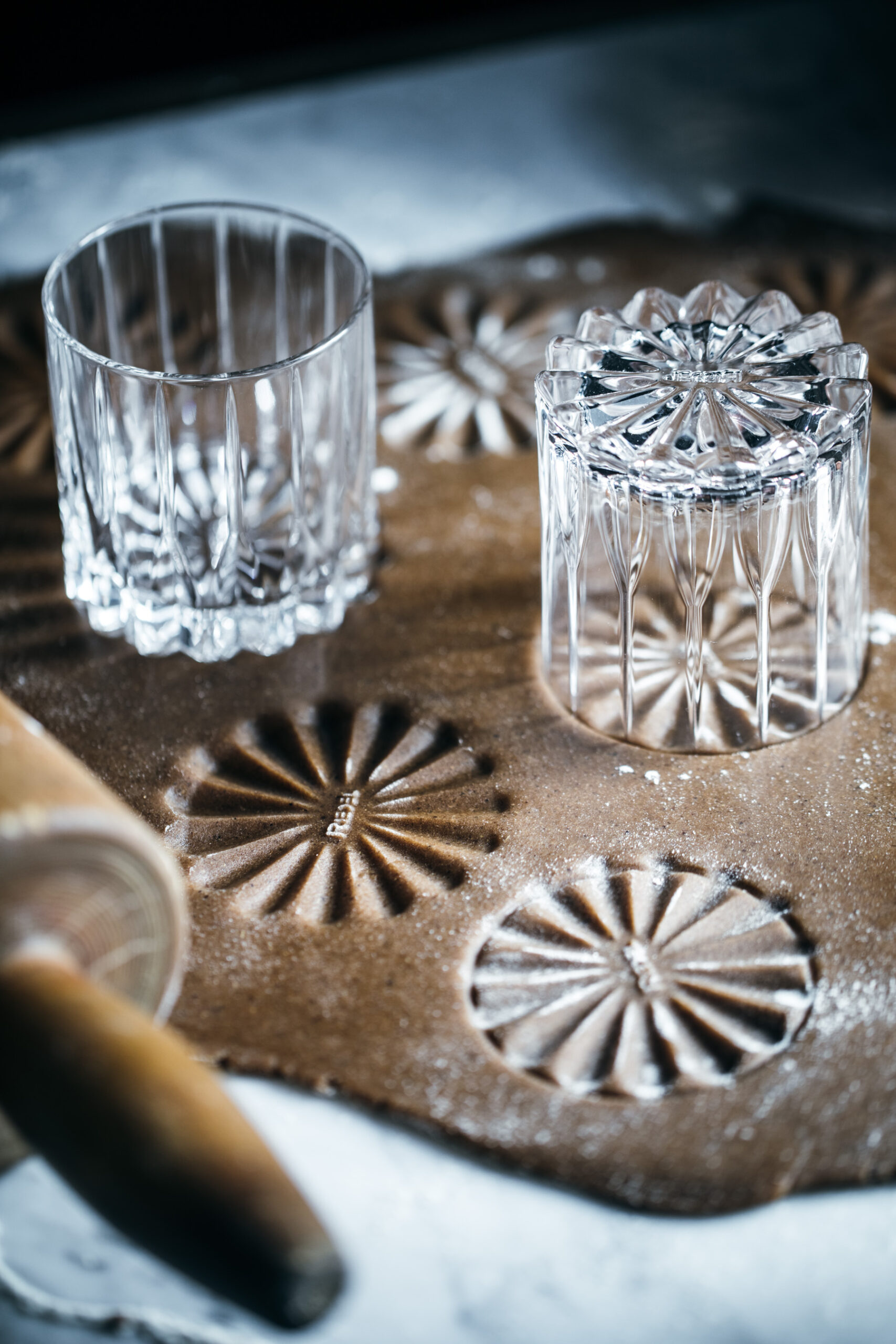 This recipe makes delicious gingerbread cookies, perfect for making with family and friends, especially children. Homemade gingerbread dough gives better results than ready-made, and it's easier to make than you think. Just remember the dough needs a day or more in the fridge, and then it should be soft, smooth, and firm. Flavors from the spices also develop if you let the dough rest for a couple of days. You can decorate the gingerbread cookies with royal icing or try a tasty recipe for butter rum glaze.
The smell of freshly baked gingerbread is a sure sign of Christmas, and it gets me right into that festive spirit. It brings me back to childhood and reminds me of all the cozy Christmas workshops we used to have yearly.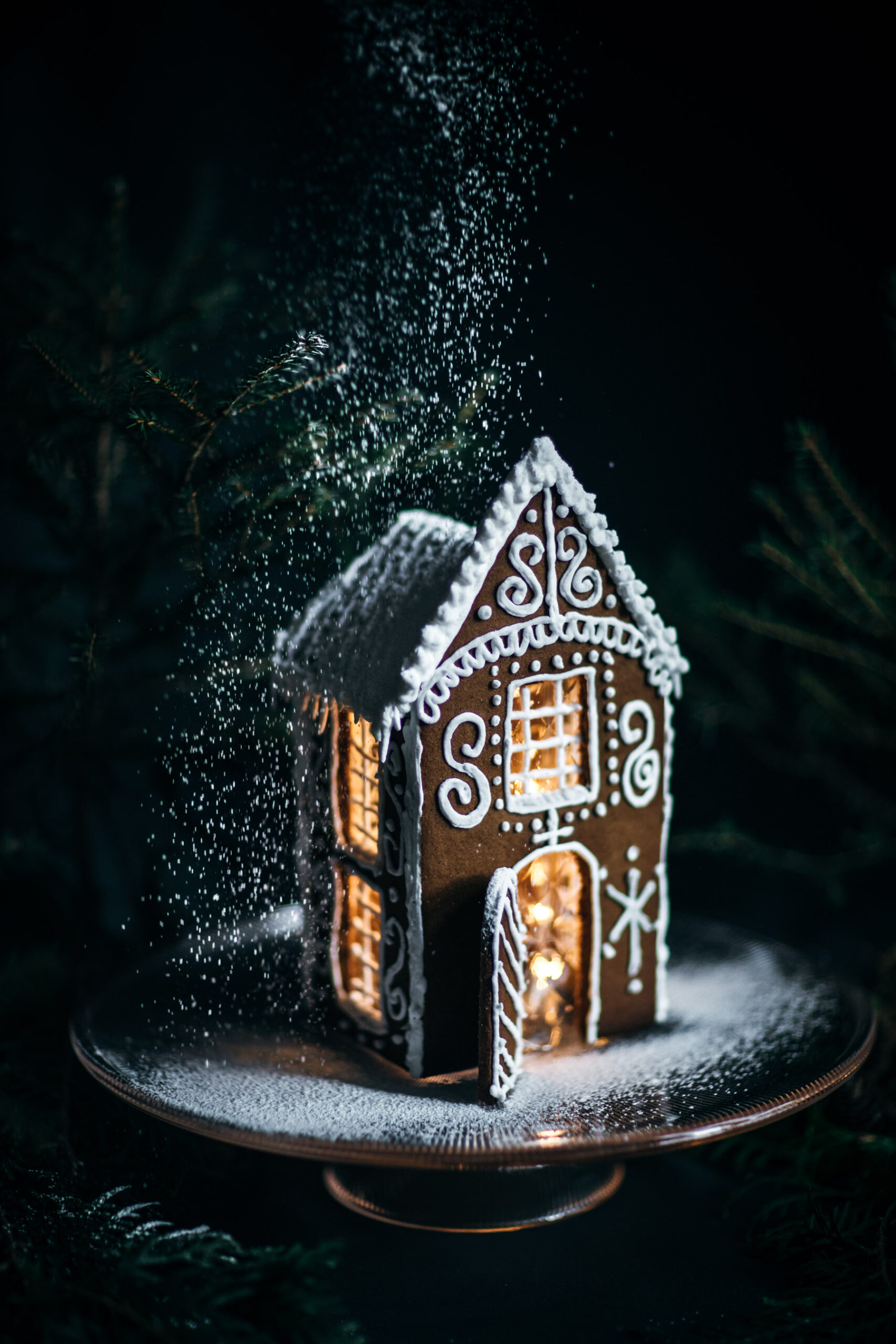 GINGERBREAD COOKIE RECIPE
The best recipe for gingerbread cookies. I always use organic and whole food ingredients whenever possible. 
Yields a big gingerbread house + a good pile of cookies. The recipe can also be halved.
4 tablespoons ground cinnamon, topped
4 tablespoons ground
cardamom

, topped
4 tablespoons ground
ginger

, topped
2 tablespoons ground cloves
900 g all-purpose flour
(+ 150-200 g for baking out the dough)
2 tablespoons of baking soda
1. Have the syrup, sugar, and butter in a small saucepan and place over medium heat. Add the spices. Stir well and regularly until the sugar is dissolved. Let it cool for 5-10 minutes before whisking in the eggs.
2. Sift 900 g all-purpose flour into a large baking bowl, add baking soda and salt and whisk together. Pour the wet mixture into another large baking bowl and add the flour one scoop at a time. I use a food processor at medium speed until a crumbly dough forms.
Tip! Grease the edge of the baking bowl with a neutral oil so that the dough will release more easily.
3. Cover the bowl, or put the dough in an airtight container, and place it in the fridge for at least 24 hours, preferably several days, so the dough and flavors can develop and settle. Take the dough out of the fridge 20-30 minutes before baking.
4. Preheat the oven to 175°C (350°F). Line the baking sheets with parchment paper.
5. Knead a good amount of flour into a piece of dough. When the dough is slightly «warmed up» and easy to work with, form it into a ball and press down to flatten it a little. Roll the dough to a thickness of 5-7 mm on a floured surface. Cut out cookies with the desired form and motives. You can also use glasses with a pattern underneath. Place the cookies on the prepared baking sheet 5 cm apart.
6. Bake cookies in the preheated oven for 6 to 10 minutes, depending on the size, or until golden and just cooked through. Let the cookies cool for 5 minutes on the baking sheet before glazing them with butter rum glaze. If you are using royal icing the cookies should cool completely on a baking rack before decorating.
Decoration
You can decorate the gingerbread cookies whit whatever topping you like; royal icing, butter rum glaze (see recipe below), candy, or just have them plain. Plain crispy gingerbread cookies are perfect for cheese, especially blue cheese, a match made in heaven (I promise!).
Butter rum glaze recipe
This recipe for butter rum glaze is perfect for gingerbread cookies*. I always use organic and whole food ingredients whenever possible.
*A slightly thicker and softer gingerbread cookie is preferred with this glaze.
1 tablespoon butter, melted
1. Have the ingredients in a bowl and whisk to combine until smooth. Add more rum or gingerbread syrup if the glaze is too thick; it should be like the consistency of maple syrup or thin honey.
2. Brush the cookies with the glaze while they still are warm, but not hot. Let it cool completely before storing it in an airtight container. The gingerbread with glaze should be eaten within a few days up to a week.
Butter rum glaze is perfect on softer gingerbread cookies and should be applied while the cookies are still warm. The recipe for butter rum glaze is adapted from The Kitchen Maccabe.
I hope you will enjoy this recipe as much as I do. If you try it, I would love to hear about it in the comments below, or you can tag @anetteselnes on Instagram.
Merry Christmas!
// Anette