NORDIC SPRUCE TIP SYRUP
This Nordic syrup is made with the tip of the spruce trees. In Norway, we have many of these trees, and in the spring, they get new sprouts, a light green tip that is beyond delicious to eat and use in cooking. You can use it in salads, make vinaigrettes or make syrup. And since this blog is all about "hygge" and coziness, I decided to share a simple syrup recipe. What's more Nordic than syrup with the scent of the dark green forest?
Spruce tip syrup tastes a little citrusy and is delicious to use both in sweet and savory dishes. It´s perfect on pancakes, porridge, or even in a drink. It's also good to use with cheese or as a glaze on meat or fish.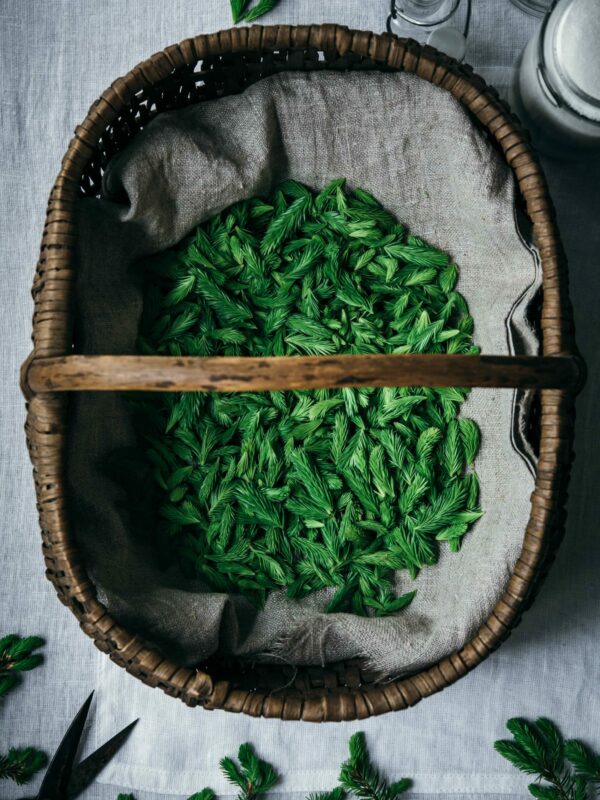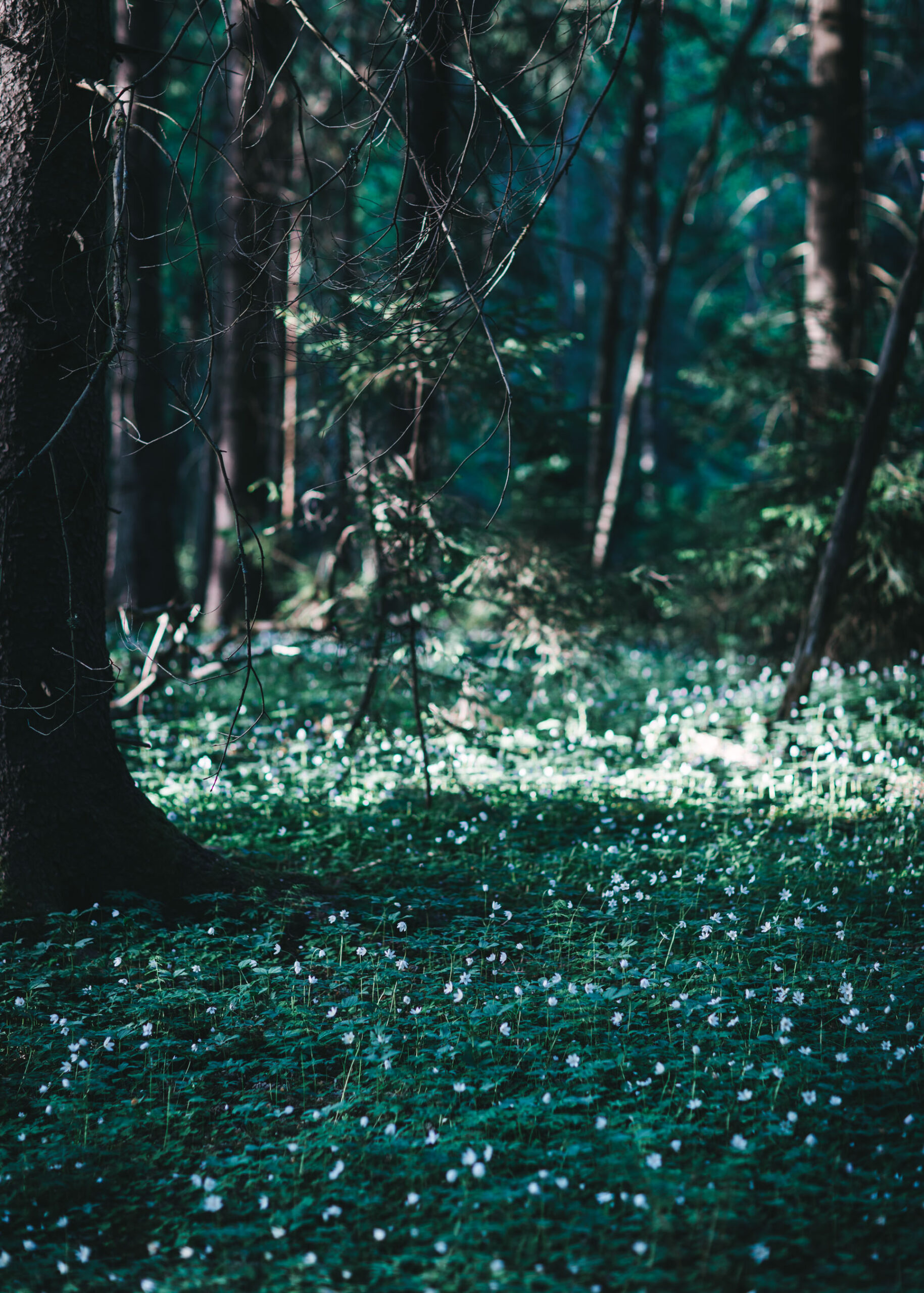 SPRUCE TIP SEASON 
There is something magical about the dark green forest; so quiet and peaceful in the wild. Foraging is mindfulness for me, picking one spruce tip at a time. Your basket is full before you know it, and you are ready to make a delicious syrup you can use throughout the different seasons. And while the syrup is simmering on the stove, your home smells like a breath of fresh air.
Spruce tips can only be foraged in the spring/ early summer, depending on the location and the climate. You should pick them while they are young, soft, and light green, as older and bigger sprouts can get too bitter and gummy.
A FEW TIPS ON FORAGING SPRUCE TIP 
You should have a few things in mind when you harvest spruce tips. As with everything you forage, you should be 100% sure you have identified the right plant. Better safe than sorry! The light green spruce tips are easy to identify, but be aware that yew can look similar but are poisonous. 
You should also research the guidelines or laws for foraging in your area or country. In Norway that is "Friluftsloven § 5", which basically says you can forage as long as you are being mindful and considerate. 
You don't have to worry about pollution, pesticides, or herbicides if you forage spruce tips in the forest; it's clean and ready to use. Another good thing about the spruce tip is that it's almost free of bugs and insects compared to other plants you may forage. 
The spruce tips are easy to pick, so you don't need scissors. All you need is a basket or a linen bag to store it in. Work your way around the tree and pick from different places so you don't damage it, and never pick the top of a young tree, as this can hinder its future growth.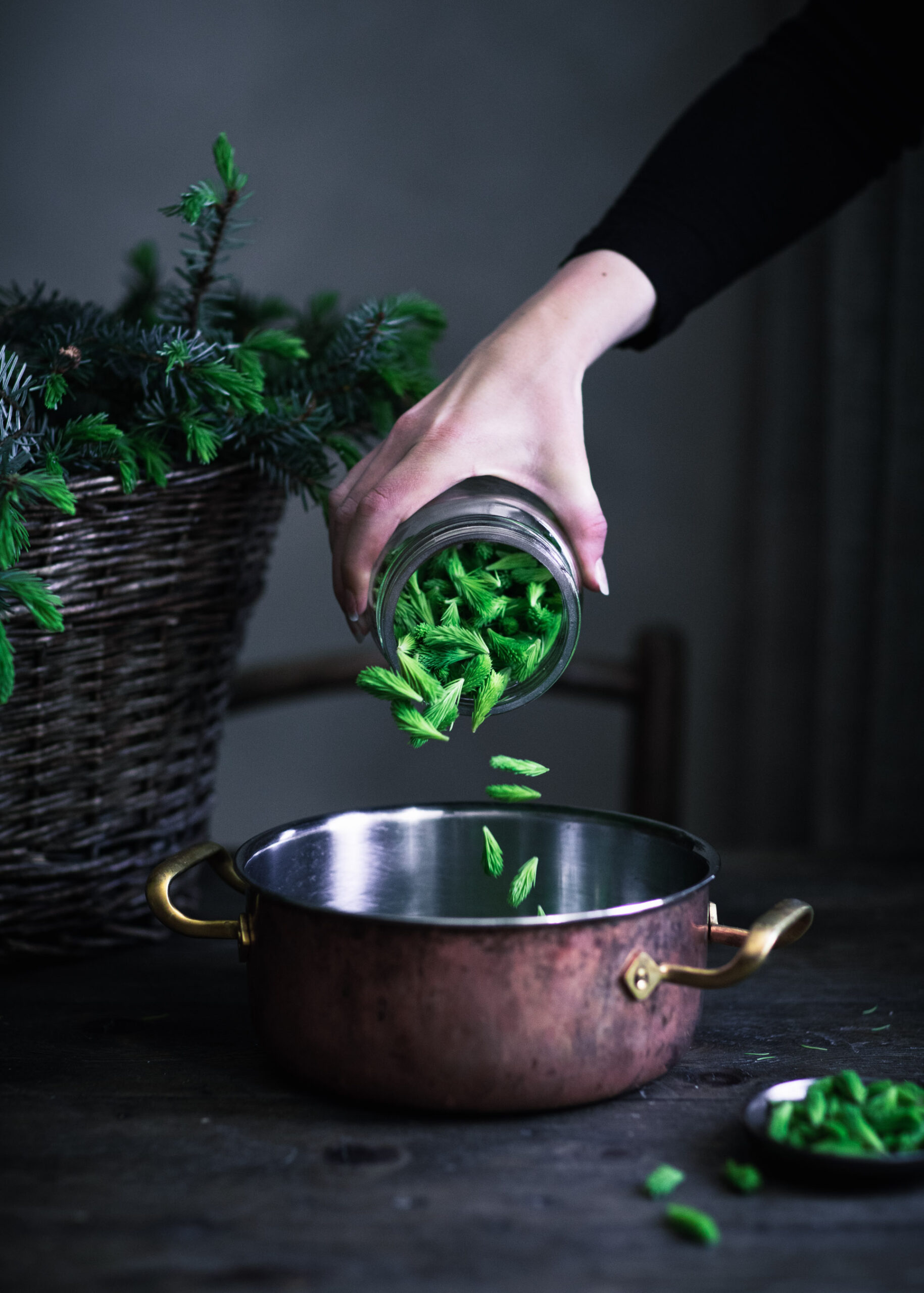 SPRUCE TIP SYRUP RECIPE
This syrup is easy to make; all you need is sugar, water, and the foraged spruce tips. I always use organic and whole food ingredients when suitable.
(enough to cover the spruce tips)
(I used natural cane sugar)
Quantity ratio
– 3 parts spruce tip infused water
– 2 parts sugar
Ex: 15 dl spruce tip infused water + 10 dl sugar. Or 6 cups of spruce tip infused water + 4 cups of sugar.
1. Have the spruce tips in a medium size pot and fill it with water to cover the spruce tips (don't use more water than you need). Bring it to a boil, reduce the temperature, and let it simmer on medium heat for at least 30 minutes. You can also cover and steep it in the fridge overnight to enhance the flavor.
2. Strain out the spruce tips; you can eat them or discard them. Measure the spruce tip infused water, return it to the pot, and add the sugar.
3. Boil the syrup, uncovered, on medium/high heat until you get the consistency you want, about 30-60 minutes or until it's reduced to 1/4. Make it a bit thinner than you want since it will thicken after it cools. Remove any foam with a spoon during this process.
Tip! You can test the consistency by adding a teaspoon of syrup to a plate and letting it cool for a couple of minutes, and then you will see how thick it is.
3. Pour the syrup into clean, sterilized, and hot jars, leaving 1 cm (½ inch) from the top. Wipe the rim if necessary and close the lid. Let it cool before storing it in the fridge.
4. The syrup should last about four months or more in the fridge. It does not freeze well. For longer storage, boil the jars in a water bath for 10 minutes, remove and let cool, then store it in a cool dark place for 2 to 3 years.
Now you have a delicious spruce tip syrup to remind you of the taste of the forest in the coming months. Use it on pancakes, porridge, or even in a drink or coffee. 
If you try this recipe, I would love to hear about it in the comments below, or you can tag @anetteselnes on Instagram.
Enjoy!
// Anette