CLASSICAL CREPE RECIPE FOR SWEET OR SAVORY FILLINGS
This recipe for classical crepes is easy to make with only a few ingredients you probably already have on hand. Crepes are versatile and are served with savory or sweet fillings or even have different flavors in the batter.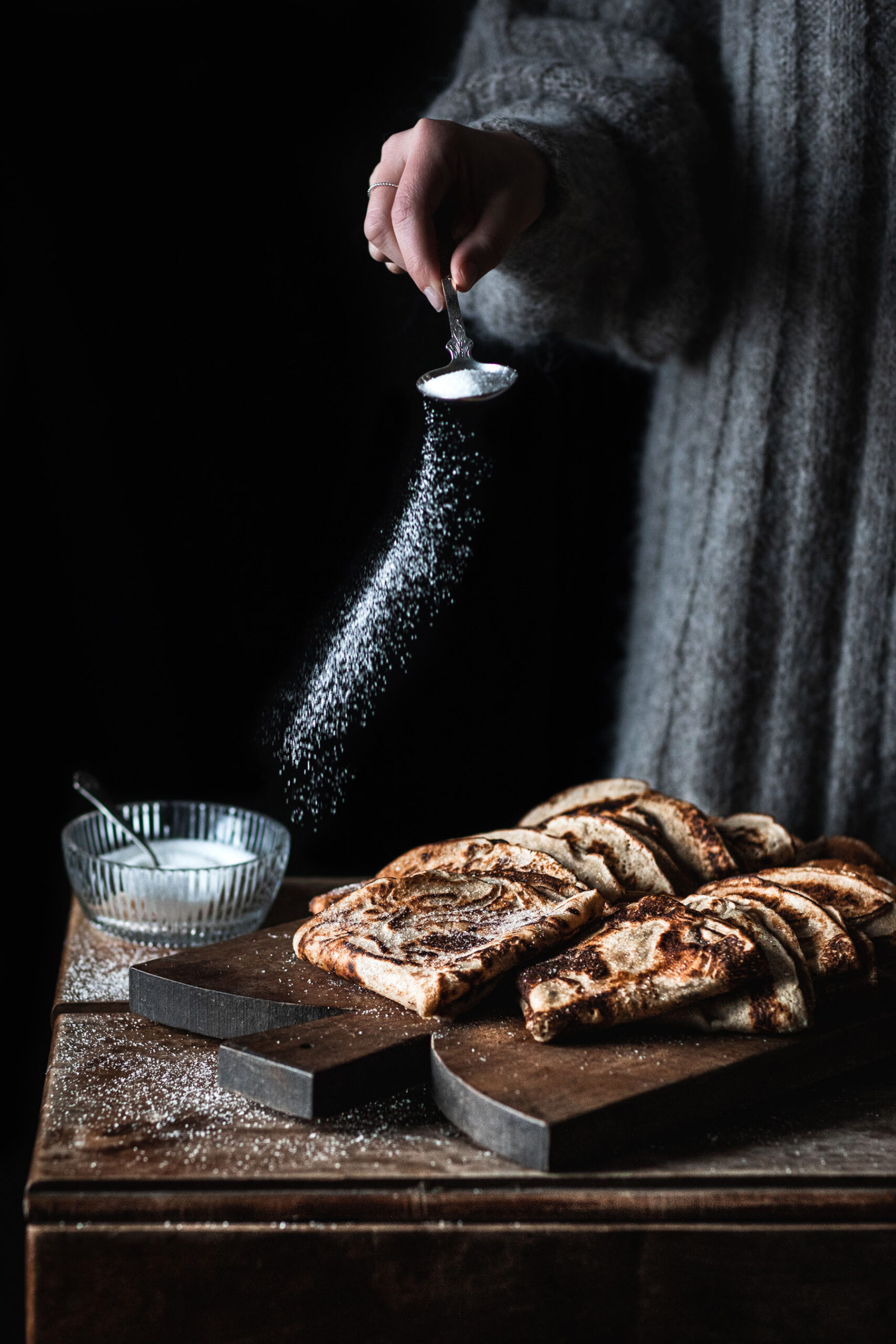 What's the difference between pancakes and crepes?
Crepes are a popular dish worldwide in different varieties and differ from pancakes for several reasons. Pancakes are small and fluffy, while crepes are thin and elegant. Pancakes also have a thicker batter with leavening to give them a rise, while crepes have a thinner batter made with mostly egg and milk with no leavening added. 
Ingredients and dairy- and gluten-free options
A crepe batter consists of milk, egg, and flour in Western cuisine. The ratio depends on how thick you like them, but a general ratio in weight is one part milk, one part egg, and ½ part flour. 
You can easily make the batter dairy- and gluten-free if desired. Traditionally the savory version is made with buckwheat, which is gluten-free, but you can also use oat, rice, or a combination of different gluten-free flours. You can swipe the milk with any plant milk for a dairy-free version. 
.  
My favorite fillings
Classical crepes take me back to childhood; we actually just call it pancakes. In Norway, a pretty usual dinner is first eating tomato soup and then crepes with jam, sugar, or something savory like bacon. My favorite filling was with sugar and a few drops of lemon juice. Even though this is not my typical dinner anymore, it's nice to eat some of my childhood favorites once in a while. 
Now I mostly eat crepes with homemade jam or just some seasonal fruits or berries. I must admit I don't eat a lot of crepes with savory fillings, but after researching this recipe, I got inspired. I came across a recipe using bone broth instead of milk and filling it with leftovers dinner. That could be an elegant way to eat leftovers. 
I hope you like this recipe, and if you have any suggestions about fillings, savory or sweet, please share in the comments below.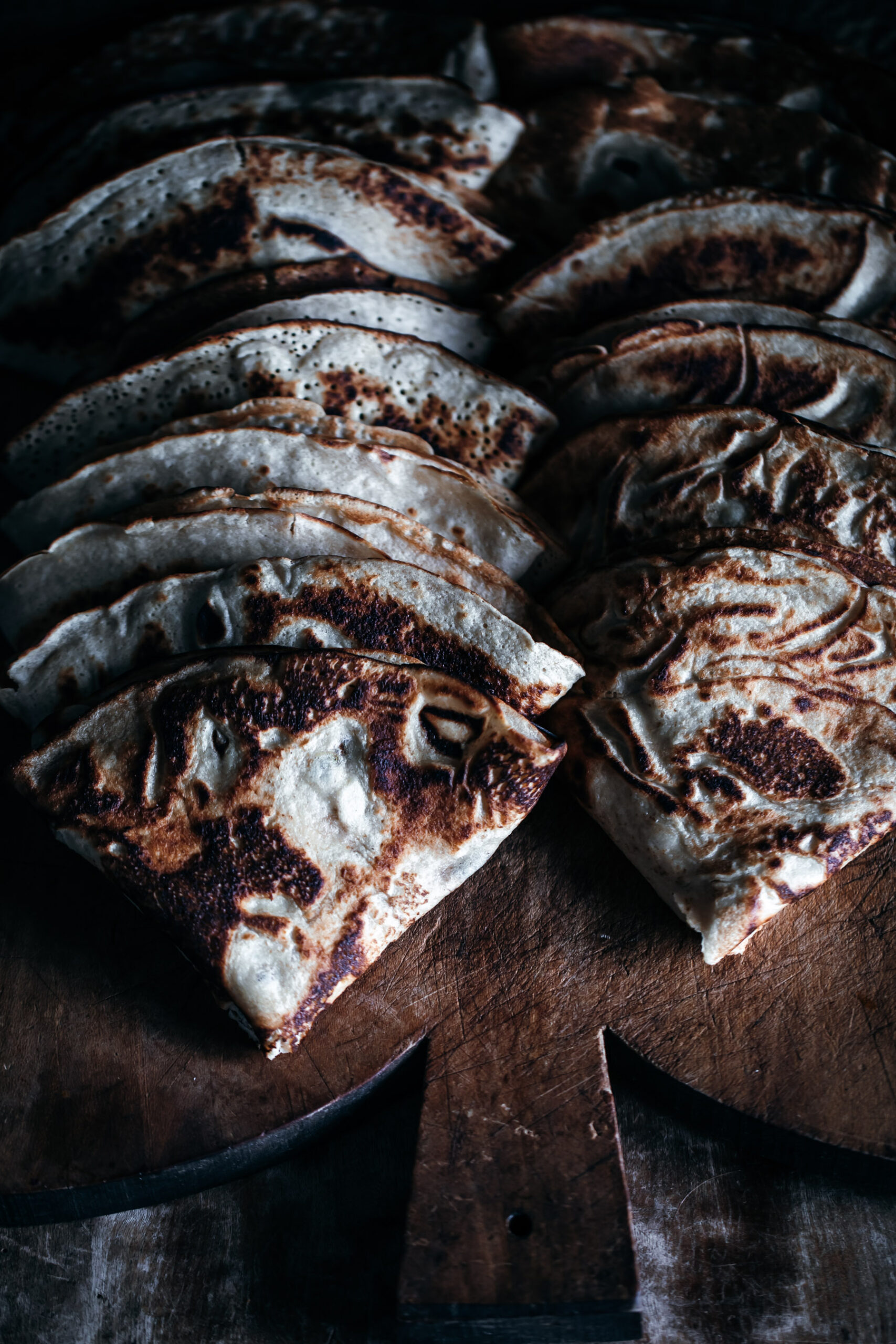 CLASSICAL CREPE
RECIPE
This basic crepe recipe is easy to make with only a few ingredients you probably already have on hand; all you need is milk, egg, and flour. I always use organic and whole food ingredients when suitable.
The recipe yields 6-7 crepes.
(2,5 dl or approx. 1 cup)
125 g flour, unbleached all purpose 
(2,5 dl or approx. 1 cup)
1. Beat the eggs in a big bowl with a whisk by hand or a hand mixer until well combined. Add the milk and salt, and blend until they're uniformly mixed. Add in the flour and whisk until entirely smooth. 
2. Let the batter rest for ½ hour, covered in the fridge, or up to a day to allow the flour to hydrate and absorb the liquid. 
3. Heat a frying pan at medium/high heat and swirl some butter to coat the bottom. If you use a non-stick pan, you only need to put some oil on a paper towel and wipe the surface. 
4. Pour some batter in the center of the pan, just enough to coat the bottom as you tip and tilt the pan. Spread the batter evenly in a thin layer; this may take some practice. Let it cook untouched a minute or until it's golden brown, then gently flip the crepe and briefly cook on the other side. Repeat with all the crepes. Add more butter or oil as you need it. 
5. Stack the crepes on top of each other until you are ready to eat. You can keep them warm in the oven as you go. Or the crepes can be cooled, covered, and refrigerated until you are ready to eat them.   
Fillings
Serve the crepes with the filling and topping you like. I often just spread a thin layer of jam and then roll it. I'm also obsessed with this lilac flower-infused honey at the moment; it's perfect for drizzling on crepes.
You can also make a crepe cake layered with your favorite filling, like the one I made last winter (see below). It's inspired by the flavors of Semlor, Swedish fat Tuesday buns, with almond- and cardamom filling. You can also use fresh berries and cream, or with whatever is in season.
This is perfect for a slow Sunday breakfast all year round!
I hope you enjoy this easy and delicious recipe for classical crepes. If you make them, I would love to hear about it in the comments below or you can tag @anetteselnes on Instagram. If this is the first time visiting my new homepage you can read more about me and what it's all about here.
// Anette